"Torija" by Federico Moreno Torroba (Guitarist: David Stevenson)
Ramirez Estudio 3 Cedar Classical Guitar
The Ramirez Estudio 3 Cedar (Studio 3) is a top studio guitar with a selection of the finest, high-quality woods. Its sound is reminiscent of the characteristic Ramirez timbre.

Great volume, body, interplay of tones, balance, roundness and warmth.

Top: Solid Cedar
Sides & Back: Solid Indian Rosewood
Neck: Cedar
Binding: Indian Rosewood
Fingerboard: Ebony
Bridge: Indian Rosewood
Nut: Cow Bone
Nut Width: 52mm
Saddle: Cow Bone
Soundhole: 89.6mm
Tuner: Van Gent
Scale Length: 650mm
Strings: Ramírez Hard Tension
Finish: Polyurethane
Electronics: None
Ramirez Hardshell Case Included
---
Every guitar is given a professional setup and a thorough 19-point inspection including playing through every note, adjusting saddle & nut heights, checking neck relief, fret ends, tuning mechanisms, finish, and more. You can rest assured that your guitar will be flawless or we'll replace it or refund it and cover all shipping charges. Also, all guitars at XGuitars are kept at the perfect humidity and temperature to prevent hidden cracks, sharp frets, warped necks, etc.
---
NO SALES TAX for any state outside of North Carolina.
Financing Available! - 6, 12, or 18 months at 0% interest. Contact us for details.
If you have any questions, please contact us.
---
Wow!
This guitar has taken my music to the next level. Highly recommended for any lover of classical Spanish music.
With any online purchase of such a high quality instrument, one might be concerned about buying sight unseen not to mention shipping across the country. Rest assured Geoff will provide the highest quality service and support through the entire process.
I have recorded and included a link to a small snippet of one of my favorite pieces played on this Jose Ramirez Estudio 3. This recording showcases the rich and warm tones of this beautiful instrument. Enjoy.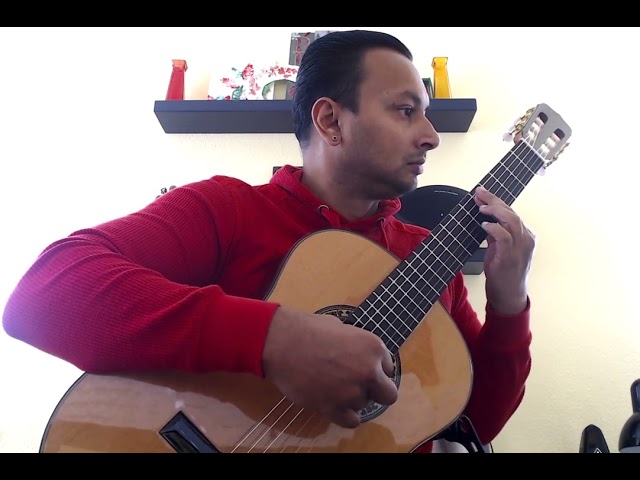 The Ramirez Estudio 3 Guitar
My Ramirez Estudio 3 guitar is a finely made instrument, and what I expected in craftmanship, balanced sound, and ease of play. After researching instruments, the Estudio 3 in cedar had what I wanted and could afford. I spoke with Geoff at Xguitars. He listened to my playing history from many years ago and what I wanted to accomplish by returning to the classical guitar. So, living on the west coast and unable to travel to North Carolina, I trusted Geoff to make an Estudio 3 selection for me, and he called me several days later to describe for my approval what he found. I was not disappointed. The guitar arrived set up, ready to play and exactly what I was looking for. My sincere appreciation to Geoff and Xguitars.
Outstanding
Without a doubt, one of the best guitars for the price range that I have ever played.
The service from Geoff at Xguitars.com was even better than the guitar.
I will be a loyal customer of Ramirez as well as Geoff.
Beautiful Sound and Playability!
First of all, a great guitar buying experience as usual. Timely communications, shipping, and secure and safe delivery.
I absolutely love this guitar! I've owned and played a number of guitars and I didn't know Ramirez was the sound that I most resonate with, until I started playing this. I haven't played my other guitars for a couple of weeks, so there it is!
The guitar is lightweight, the playability is great, and the resonance is more than I expected. The finish is flawless and it's a great looking guitar. I've been playing it for 2 weeks and already see how my playing has improved. Really looking forward to spend time with this Ramirez.
Moving on to things that can be further improved; the tuners and the hardshell case. The stock tuner is good, but in my opinion, a higher quality tuner can do more justice to the quality of the guitar. So, I upgraded mine to Schaller GrandTune. The hardshell case is a basic case, nothing to write home about, and feel its quality could be a little higher (compared to my Alhambra logo'd case anyway).
Beautiful Ramirez Studio Three Guitar
The Ramirez Studio Three guitar is a beautiful instrument. It is rich and balanced and plays smoothly. It looks and feels great too! It sounds great for Spanish classical guitar music or Italian classical guitar music. It is nice for playing mainstream composers like Bach as well. I also like using it for my original compositions. It is a very versatile instrument. I love it!