Financing Available! - 6, 12, or 18 months at 0% interest. Contact us for details.
Every guitar is given a professional setup and a thorough 19-point inspection including playing through every note, adjusting saddle & nut heights, checking neck relief, fret ends, tuning mechanisms, finish, and more. You can rest assured that your guitar will be flawless or we'll replace it or refund it and cover all shipping charges. Also, all guitars at XGuitars are kept at the perfect humidity and temperature to prevent hidden cracks, sharp frets, warped necks, etc.
---
Model: Umbra (Formerly known as the "Barnett Umbra")
Size: STANDARD
Orientation: Great for right-handed or left-handed players
(Sagework Supports are symmetrical)

This is the more economical version of the beautifully genius Sagework (formerly Barnett) Magnetic Guitar Support. Functionally, it is exactly the same, but the wooden parts of the standard model are replaced with Vydyne, a high quality reinforced nylon that is both strong and beautiful.

Never again worry about suction cups slipping loose during a performance! Sagework Supports are the best guitar supports on the market and the magnet system makes them 100% reliable.

The Sagework Umbra guitar support is incredibly stable, fully adjustable, easy to install/remove, and completely safe for all guitar finishes. And being designed by luthier Kris Barnett and woodworker/engineer Randy Meinert , they are true works of art.

Which size to choose? Please see our Sagework Sizing Options page.

Parts Included: Guitar Support, one Internal Magnet Set, Adhesive Strips & Markers, Allen Wrench, & Complete Installation Instructions. (For additional Internal Magnet Sets for additional guitars, please choose from the options below the Add to Cart button.)





Sagework Guitar Supports have several unique design features that make them the most reliable, adjustable, and comfortable support on the market. The most prominent and advanced feature is the implementation of rare-earth magnets to safely and reliably attach the support to the instrument. The use of magnets ensures secure attachment but also allows the support to "find" the proper location on the instrument instantaneously through magnetic attraction. The use of magnets is only one of many features that sets this support apart from others.

WARNING: The magnets are VERY strong and caution must be used during the initial installation and while attaching and removing the support. If meticulous care is not taken, damage to your guitar could result.

WARNING: Do not use magnetic guitar supports if you have a pacemaker or similar device.


---
If you have any questions, please
contact us
!
!
After about 30 minutes of using a foot stool, my back and neck would hurt and I would have to take a break. So I finally decided to get a Sage Guitar Support (which I have been hesitant to do because I was afraid of damaging the finish on my guitars). The support corrects my posture and I can practice feeling any pain on my back and neck for hours. Great product! I highly recommend this for anyone who has posture problems. Plus, being more relaxed while playing, it DOES improve your playing. Thank you SAGEWORK.
Worked very well for me. Very sturdy, Adjustments are very flexible.
Folds up small enough to fit in my case compartment. Leg support does not slip. Adjustments are easy. Does not leave a mark. Does not come loose. Love it! Have no fear! Installation was easy using the method shown in the video below.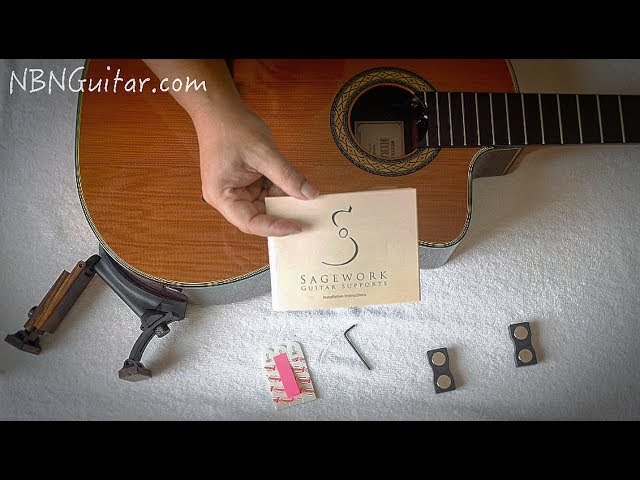 Sage guitar support
These are great for keeping your spine straight, and both feet on the ground. XGuitars is a great resource with wonderful service.
Excellent!
I love my new Sagework Umbra support. Discreet and does not take attention away from my guitar. Mounts easily, very adjustable. Love it!
Wonderful product
Innovative product. Great packaging, instructions, fast shipping. Thanks!